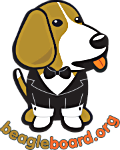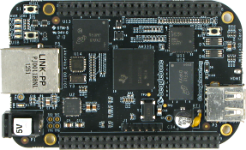 After working with the Arduino board I learned of the
Beagleboard
community and their
Beaglebone Black
board. With a 1-GHz ARM® Cortex-A8 processor it runs 60 times faster than the Arduino and had more features like HDMI video! This board was more like a true PC in the palm of your hand.
My robotic goals with this board are the same as with the Arduino - run stepper motors. But with the BBB you can't just write C code, upload it and off you go. This board runs a full OS, namely Linux, which makes getting low-level, fast access to the GPIO pins more than trivial. It involved accessing the "/dev/mem" area and compiling/installing Device Tree Overlays and dealing with permissions ... Arrrggg @#$%&*! :|
Also, I wanted my robot to be controllable from the web. So instead of taking serial commands I needed this firmware to connect with web-socket messaging like a real-time chat session.
This will allow a website to be the motion control user interface to the robot arm !!!
So rather than the traditional C/C++ code for the firmware I thought I'd try "the web way" using Javascript. I know all you firmware gurus out there are going "JavaScript ??? Gross!". But with
Node.JS
,
Socket.IO
and
BoneScript
, much had been done for me. Node.JS let me setup the BBB as a Web Server and Socket.IO gave me web socket communications.
The commands for this firmware, the
DSBotServer
, are the same as the Arduino firmware:
(Except velocities are specified with four digits, not five.)

//=============================================================================
//
//  Stepper Motor Controller, Version 2.0 - 10/30/2014
//
//  Notes  : This firmware is a Node.JS module running BoneScript.  It is
//           used to operate up to eight stepper motors.  The DSBotServer
//           module receives motor command messages by web socket from the
//           host web app (the D+S Motion Controller) and forwards them to
//           this module for execution.
//
//           For professional robotic installations a separate Beaglebone Black
//           board with "Safety Firmware" is recommended to work in conjunction
//           with this firmware.  The "Safety Board" should provide:
//             - Limit switch input monitoring for all motors
//             - Multiple E-Stop button inputs and monitoring
//             - Motor current monitoring (over-current)
//             - Motor temperature monitoring (over heating)
//             - Human or foreign object proximity monitoring (work cell)
//           Safety board firmware is on my "to do" list :)
//
//  Author : Bill Daniels
//           Copyright (c) 2013-2014, D+S Tech Labs Incorporated
//           All Rights Reserved
//
//=============================================================================
//
//  This SMC module is designed to work with the DSBotServer web server module.
//  It receives and executes stepper motor commands forwarded from the DSBotServer.
//  The DSBotServer receives motor commands from a host web application, the "D+S Motion Controller".
//
//  This firmware is designed for the Beaglebone Black Microcontroller board.
//  It communicates with micro-stepping motor drivers that take Enable, Direction and Pulse signals.
//  A typical stepper motor driver would be the MA860H Microstep Driver.
//
//  This firmware can control up to eight(8) motors simultaneously with the following commands:
//     ENm    = ENABLE                - Enables the motor driver (energizes the motor)
//     DIm    = DISABLE               - Disables the motor driver (releases the motor)
//     SHm    = SET HOME POSITION     - Sets the current position of the motor as its HOME position (Sets Absolute position to zero)
//     SLm... = SET LOWER LIMIT       - Sets the LOWER LIMIT (minimum Absolute Position) of the motor's range
//     SUm... = SET UPPER LIMIT       - Sets the UPPER LIMIT (maximum Absolute Position) of the motor's range
//     SRmr   = SET RAMP              - Sets the trapezoidal velocity RAMP (up/down) for smooth motor start and stop
//     RHm... = ROTATE HOME           - Rotates motor to its HOME position
//     RLm... = ROTATE to LOWER LIMIT - Rotates motor to its LOWER LIMIT position
//     RUm... = ROTATE to UPPER LIMIT - Rotates motor to its UPPER LIMIT position
//     RAm... = ROTATE ABSOLUTE       - Rotates motor to an Absolute target position from its HOME position
//     RRm... = ROTATE RELATIVE       - Rotates motor clockwise or counter-clockwise any number of steps from its current position
//     ES     = E-STOP                - Immediately stops all motors (Emergency Stop)
//     RE     = RESUME                - Resume E-Stopped motors
//     GAm    = GET ABSOLUTE position - Returns the motor's current step position relative to its HOME position
//     GRm    = GET RELATIVE position - Returns the motor's current step position relative to its last targeted position
//     GLm    = GET LOWER LIMIT       - Returns the motor's Absolute LOWER LIMIT position
//     GUm    = GET UPPER LIMIT       - Returns the motor's Absolute UPPER LIMIT position
//     GV     = GET VERSION           - Returns this firmware's current version
//  where m is the Motor ID (0-7) and r is the velocity ramp rate (0-9).
//
//------------------------------------------------------------------------------------------------------------------
//
//  Motor rotation speed follows a trapezoidal shape.  A linear ramp-up/ramp-down rate is set by the
//  SET RAMP (SR) command for each motor.  Along with the motor ID, a single digit ramp value (0-9) is specified:
//
//                                   .--------------------------------.    <-- full velocity
//  A ramp value of 0                |                                |
//  specifies no ramping:            |                                |
//  (not recommended)                |                                |
//                                 --------------------------------------
//
//                                       .------------------------.        <-- full velocity
//  A ramp value of 5                   /                          \
//  specifies moderate ramping:        /                            \
//  This is the default at startup    /                              \
//                                 --------------------------------------
//
//                                           .----------------.            <-- full velocity
//  A ramp value of 9                      /                    \
//  specifies gradual ramping:           /                        \
//                                     /                            \
//                                 --------------------------------------
//
//  Use low values (1, 2, ..) for fast accelerations with light loads and high values (.., 8, 9) for slow accelerations
//  with heavy loads.  It is highly recommended to use slow acceleration when moving high inertial loads.
//
//                                            ----------    <-- full velocity
//  If there is not enough time to achieve
//  full velocity, then rotation velocity         /\
//  follows a "stunted" triangle path:           /  \
//                                            ----------
//
//  Once a ramp value is set for a motor, all rotate commands for that motor will use its specified ramp value.
//  The default ramp value at start-up is 5 for all motors.
//
//------------------------------------------------------------------------------------------------------------------
//
//  Maximum rotation speed for all motors is 9999 steps per second (4-digits).  Speeds are always indicated
//  by four(4) digits padded to the right with spaces.
//
//  All five ROTATE commands return a ROTATE COMPLETE (RCm...) message to indicate completion of rotation.
//  The RC message includes the motor's final absolute position:
//     RCmppp... = Rotate Complete for motor m, its position is ppp...
//
//  For example: Receiving "RC41250" from this firmware = ROTATE COMPLETE for Motor 4,
//                                                         and it final postion is +1250 steps from HOME
//
//------------------------------------------------------------------------------------------------------------------
//
//  If a ROTATE command is received for a motor that is already active (running a previous Rotate command),
//  then the current rotation is interrupted and the new ROTATE command is executed from the motor's
//  current position.
//
//------------------------------------------------------------------------------------------------------------------
//
//  The default LOWER and UPPER Range Limits are set to +2 billion and -2 billion at start up.
//  It is assumed the host (web application) software will set these limits from a configuration file or other means.
//  If a range limit has been reached (the motor's Absolute Position has reached the set LOWER LIMIT or UPPER LIMIT),
//  then the motor's motion is stopped and a Range Error message is returned:
//     REm = Range Error for motor m
//
//------------------------------------------------------------------------------------------------------------------
//
//  This firmware may also be queried for position, range limits and firmware version,
//  with the following commands:
//     GAm = GET ABSOLUTE position - Returns the motor's current step position relative to its HOME position
//     GRm = GET RELATIVE position - Returns the motor's current step position relative to its last targeted position
//     GLm = GET LOWER LIMIT       - Returns the motor's Absolute LOWER LIMIT position
//     GUm = GET UPPER LIMIT       - Returns the motor's Absolute UPPER LIMIT position
//     GV  = GET VERSION           - Returns this firmware's current version
//  where m is the Motor ID (0-7).
//  The returned result is a string with the following format:
//     APms... = Absolute Position of motor m is s steps from its HOME position
//     RPms... = Relative Position of motor m is s steps from its last targeted position
//     LLms... = LOWER LIMIT of motor m relative to its HOME position
//     ULms... = UPPER LIMIT of motor m relative to its HOME position
//  where s is a positive or negative long integer (depending on clockwise or counter-clockwise position)
//  and represents a number of steps which may be 1 to 10 digits plus a possible sign.
//
//  The motor's HOME position is always zero (0).
//
//---------------------------------------------------------------
//  Command String Format: (no spaces between fields)
//---------------------------------------------------------------
//                             cc m vvvv ssssssssss
//                             |  |   |       |
//  Command/Query -------------*  |   |       |
//     [2-chars]                  |   |       |
//     EN = ENABLE                |   |       |
//     DI = DISABLE               |   |       |
//     SH = SET HOME              |   |       |
//     SL = SET LOWER LIMIT       |   |       |
//     SU = SET UPPER LIMIT       |   |       |
//     SR = SET RAMP              |   |       |
//     RH = ROTATE HOME           |   |       |
//     RL = ROTATE to LOWER LIMIT |   |       |
//     RU = ROTATE to UPPER LIMIT |   |       |
//     RA = ROTATE ABSOLUTE       |   |       |
//     RR = ROTATE RELATIVE       |   |       |
//     ES = E-STOP                |   |       |
//     RE = RESUME                |   |       |
//     GA = GET ABS POSITION      |   |       |
//     GR = GET REL POSITION      |   |       |
//     GL = GET LOWER LIMIT       |   |       |
//     GU = GET UPPER LIMIT       |   |       |
//     GV = GET VERSION           |   |       |
//                                |   |       |
//  Motor ID ---------------------*   |       |
//     [1-digit] 0 - 7                |       |
//                                    |       |
//  Velocity Ramp Rate ---------------*       |
//     [1-digit] 0 - 9                |       |
//     (For SR command only)          |       |
//                                    |       |  ----.
//  Velocity (steps per sec) ---------*       |      |
//     [4-digits] 1___ - 9999                 |      |
//     Right-padded with spaces               |      |
//                                            |      |
//  Absolute or Relative Step Position -------*      |--- For ROTATE commands only
//     [1 or more digits plus sign]                  |
//     No padding necessary                          |
//     Positive values = Clockwise                   |
//     Negative values = Counter-Clockwise           |
//                                               ----*
//---------------------------------------------------------------
//  Examples: (quotes are not included in string)
//---------------------------------------------------------------
//
//  "EN4"           - Enable the driver for motor 4 (fifth motor)
//  "DI2"           - Disable the driver for motor 2 (third motor)
//  "SH0"           - Set the current position of motor 0 as its HOME position (zero, not oh)
//  "RA1500 2000"   - Rotate Absolute motor 1, at 500 steps per second, to Absolute position of +2000 steps clockwise from HOME
//  "RR63210-12000" - Rotate Relative motor 6, at 3210 steps per second, -12000 steps counter-clockwise from its current position
//  "RH34000        - Rotate motor 3 back to its HOME position (0) at 4000 steps per second
//  "RL4500"        - Rotate motor 4 to its LOWER LIMIT position at 500 steps per second
//  "SR06"          - Set the velocity ramp-up/ramp-down rate to 6 for motor 0 (first motor)
//  "ES"            - Immediately stop all motors
//  "GR3"           - Get the current relative step position of motor 3 (forth motor)
//
//---------------------------------------------------------------
//  Beaglebone Black Board, P8 and P9 Header Connections:
//---------------------------------------------------------------
//
//  Each motor driver requires three(3) GPIO pin outputs to operate, one for Enable, Direction and Pulse.
//  Many of the Beaglebone Black's pins are used by the system such as the eMMC and HDMI.
//  And with the Linux 3.8.x Kernel, pin muxing had to be done by writing, compiling, installing and activating a
//  Device Tree Overlay, rather than the usual sysfs method.  So the following pins are used to drive the motors:
//
//  On the P8 Header:
//  -----------------
//  Motor 0 | Enable = P8_7 , Direction = P8_9 , Pulse = P8_11
//  Motor 1 | Enable = P8_8 , Direction = P8_10, Pulse = P8_12
//  Motor 2 | Enable = P8_13, Direction = P8_15, Pulse = P8_17
//  Motor 3 | Enable = P8_14, Direction = P8_16, Pulse = P8_18
//
//  On the P9 Header:
//  -----------------
//  Motor 4 | Enable = P9_11, Direction = P9_13, Pulse = P9_15
//  Motor 5 | Enable = P9_12, Direction = P9_14, Pulse = P9_16
//  Motor 6 | Enable = P9_17, Direction = P9_19, Pulse = P9_21
//  Motor 7 | Enable = P9_18, Direction = P9_20, Pulse = P9_22
//
//  - Pins 1 & 2 of the P8 Header should be used for digital grounds.
//
//  - Future connections will include multiple E-Stop switch inputs, motor shaft encoder inputs
//    and LOW/HIGH limit switch inputs for each motor.
//
//  - A separate Beaglebone Black board will run safety firmware.  It will monitor motor temperatures,
//    foreign object cell proximity, etc.
//
//==================================================================================================================