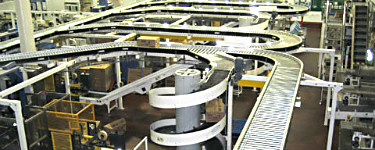 Also while working at
GBI Sorters
(now GBI Intralogistics) as a software developer I was given a mock conveyor system with overhead barcode scanners, package detectors, merge and divert paths, active roller sections, popup diverters, swing arm actuators, etc.
With this hardware I was able to write a conveyor control application that coordinated with their
Sorter Interface
. GBI had always out-sourced this application thinking it was too complex and time consuming to write themselves. After all, they were a sorter machine company, not a software company.
I showed them this diagram of how they could coordinate these two applications into an intralogistics powerhouse.
V
Click thumbnails for full size
V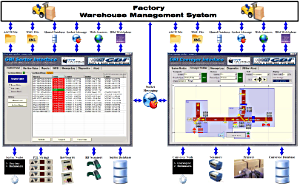 I wrote this application in C#/.NET-WinForms and MS-SQL Server single handedly.
V
Click thumbnails for full size
V
The [System Monitor] tab is a dynamic, near-real-time screen that graphically monitors the entire conveyor system:

It displays all Transport and Device activity.
It can display the location and path of any package (tote).
It will display blinking alarm faults such as package jams.
It allows operators to turn on and off individual sections of the system.






The [Conveyor Builder] tab is a graphical CAD system that allows designers to build a virtual representation of any custom conveyor layout:

Conveyor systems are built in sections by adding conveyor "paths" called Transports and dropping Devices onto these Transports.
Transports are rotated, stretched and snapped together to form the paths.





Detail dialogs for both Transports and Devices popup when double clicked.




All Device behavior is defined using the Rule Builder.
The Rule Builder is an editor for defining a set of "action rules" for each device:




The Conveyor System "runs" by quickly looping through all enabled Devices running each of their Rule Sets.

Each Transport moves packages by turning on and off its motor.
Packages are identified by passing under barcode scanners.
Sensors are checked and decisions are made as to one or more actions to take.
Millisecond timings are used to coordinate package merges and diversions.



Various reports can be generated:




A log of all system events is recorded:




A diagnostics screen monitors communications with hardware and data from other computers:




Utilities allows GUI interface modifications:




Some Conveyor Samples
V
Click thumbnails for full size
V