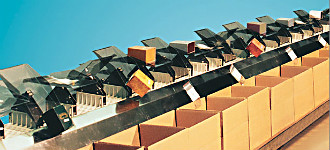 While working at
GBI Sorters
(now GBI Intralogistics) as a software developer I was given the opportunity to completely re-write their legacy sortation control software. GBI builds large industrial sortation machinery. Their "Sorter Interface" was the software that controlled, and reacted to, their monster machines which had integrated bar code scanners, package detectors, bidirectional tilt tray actuators, drop station touch pads, motor encoders, etc.
I wrote this application in C#/.NET-WinForms and MS-SQL Server single handedly.
V
Click thumbnails for full size
V
The sort process began with a "Sort Wave", a distribution list of product UPC codes and chute destinations with required quantities. The data of these sort waves were delivered to a folder of the Sorter Interface computer, or by Socket connection, from the WMS (Warehouse Management System).




The product for most sorters was loaded by conveyor belt, but some sorters had Manual Load Stations. For example, sorting returned merchendise.




Large monitors on a distribution floor shows what chute is soon to be filled with its requirements and needing to be pulled and replaced with a new collection bin.




Most of the sorters had hundreds of drops (chutes). The [Machine Status] screen shows various machine and drop statuses. Details of each drop can be brought up in a dialog and the drop's touch panel can be manipulated.




Various reports can be generated by type or date span.




The Warehouse Management System Interface (they called it "Whimsy") is a folder watcher that processed incoming sort wave files. The WMSI tab shows file activity in near real time and also shows outgoing data files when sort waves completed. Other import/export methods include using web socket communication.




A message log is always available to show all system events, warnings and errors.




And a diagnostic tab shows communication status and messages with sorter "Node" machine firmware. The Nodes were hardware stations on the distribution floor that ran and controlled motors and actuators and listened to various sensors including barcode scanners. Communications with the Nodes is performed through multiple serial ports.



Some Sorter Samples
V
Click thumbnails for full size
V