Forget Flying To Meetings
Use the Plasma-Lift Video Conference Table
"Deliver local or long distance multimedia presentations!"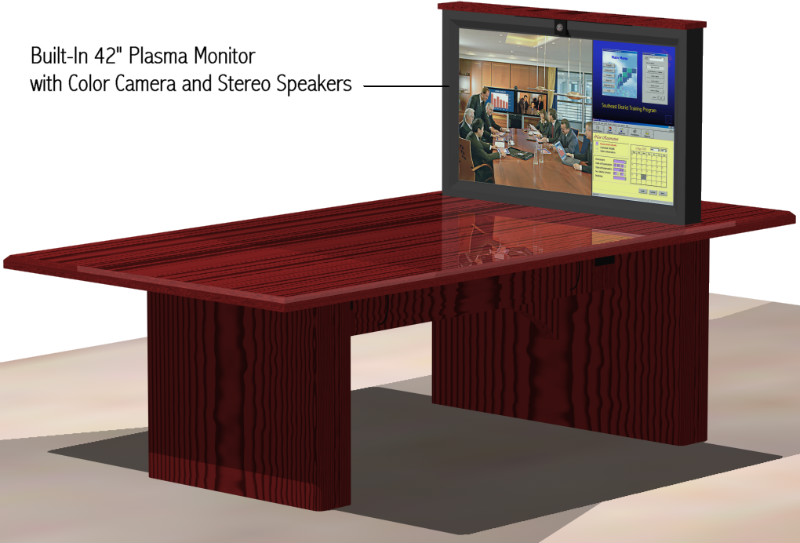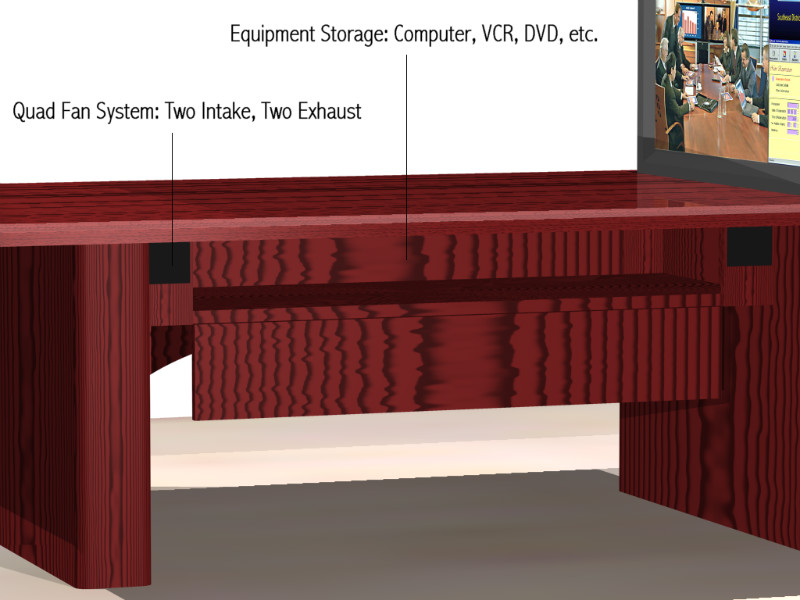 The D+S Plasma-Lift Conference Table is the perfect platform for small group multimedia presentations.
You can use this table as a normal (flat) conference table that will accomodate up to 12 people comfortably.
Or raise the 42" widescreen plasma monitor to display computer and laptop software, DVD's, video tapes, camcorder footage, etc.
Built under the table is a large equipment compartment that is ventilated by four fans (two intake, two exhaust).
The compartment also includes two surge-protected power blocks and all input jacks to the plasma monitor.
Dual hinged doors conceal the equipment and keeps equipment quiet.
Since the tragedy of September 11, 2001 flying around the country for short meetings has become an uneasy experience.
Video teleconferencing provides the solution. And the D+S Plasma-Lift Conference Table provides the A/V.
Our table comes equipped with a high-quality color video camera, stereo speakers and microphones that can join group meetings across the country, or world.


Every D+S product is backed by our Five-Year Warranty.





The Plasma-Lift A/V Conference Table
This table is built using heavily braced MDF construction. All exposed areas are finished with hand-stained and lacquered real oak veneer in a Finish Color. Onboard features include a 42" plasma monitor, stereo speakers, a large equipment compartment, four ventilation fans, two outlet blocks and extended input jacks.



             VIDEO: 42" Flat Plasma Monitor
             AUDIO: Stereo L/R Speaker Columns with Amplifier
      VIDEO INPUTS: Component, S-Video, Composite, SVGA/XGA/VGA
      AUDIO INPUTS: Stereo L/R Line Level, Stereo L/R Microphones
       UNDER TABLE: Concealed Shelf, 4 Ventilation Fans, 2 Power Blocks
        DIMENSIONS: 51"W x 111"L x 29"H
            WEIGHT: 400 lbs. 

Price: $25,000.00


This product does not include computer or telecommunication equipment.
Note: Specifications are subject to change without notice.




All Contents Copyright © 1989-2018, D+S Tech Labs, Inc.
All Rights Reserved