Introducing the NEW
Alumina Home Theater System
"Compact but very powerful!"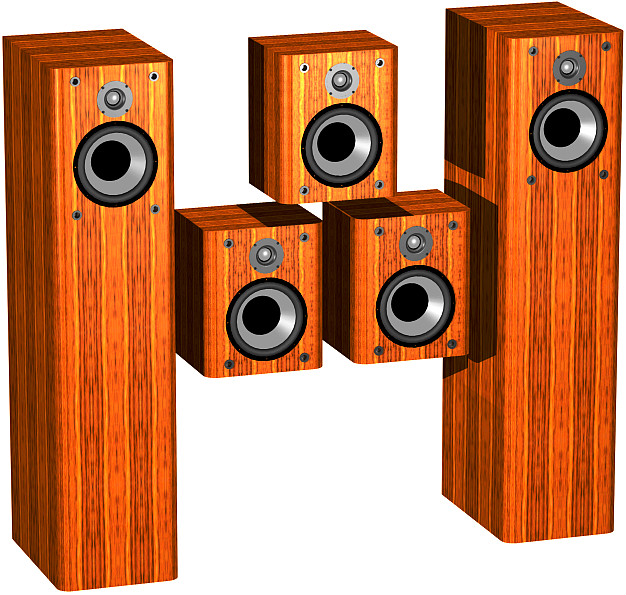 The Alumina System is the perfect mid-priced, but high performance, home theater speaker system.
It truly produces "large" sound without consuming the room...or your wallet.
And you don't need to add a subwoofer to this setup - it comes with two of them built in!

Every speaker system is backed by our Five-Year Warranty.

AlumiFront
The AlumiFront is a surprisingly strong, full-range, three chamber minitower. Its smooth upper frequency response comes from a 1" pure aluminum cone tweeter with a gently rounded, horn loaded face plate. This tweeter also uses a high energy neodymium magnet that is 20 times stronger than ceramic magnets. Ferrofluid cooling adds high dynamics and stronger power handling. The 6-1/2" woofer is also quite remarkable. Its aluminum cone is very stiff and light producing excellent transient response in the upper midrange. And its huge 20oz. double magnet system coupled with an "Omniflex" rubber surround produce a bass response that rivals most 10" woofers.
But that's not all! The AlumiFront hides a secret weapon inside.....a very powerful 8" subwoofer. This dual chamber forth-order band pass design produces room shaking bass which is vented out the back of the cabinet through a computer optimized flared port. And since the AlumiFront is biampable, its subwoofer can be driven by a separate amplifier for even greater control and impact.
At only 9-1/2" wide the AlumiFront will definitely surprise you!



        IMPEDANCE: 6 Ohms
        MAX POWER: 200 Watts RMS
         RESPONSE: 25 Hz - 20,000 Hz (+/- 3db)
      SENSITIVITY: 92db (2.83V @ 1m)
       DIMENSIONS: 9-1/2"W x 40"H x 14"D
           WEIGHT: 80 lbs. each 

Price: $1,800.00 per pair

AlumiSat
The AlumiSat may fit on a bookshelf, but don't call it a bookshelf speaker. It is a full-range mighty mite capable of sounding very clean at high volumes. All the sophistication used in D+S's large systems is still used in this compact gem.
The AlumiSat uses the same outstanding 1" tweeter and 6-1/2" midbass driver as the AlumiFront above and is also vented with a computer optimized flared port. Using identical drivers in all the speakers of a home theater eliminates any timber matching problems. In other words, when an airplane flys overhead in a movie scene, it sounds the same behind you as is did in front of you.


        IMPEDANCE: 8 Ohms
        MAX POWER: 150 Watts RMS
         RESPONSE: 40 Hz - 20,000 Hz (+/- 3db)
      SENSITIVITY: 90db (2.83V @ 1m)
       DIMENSIONS: 9-1/2"W x 11-1/2"H x 8-1/2"D
           WEIGHT: 25 lbs. each 

Price: $600.00 each

The Complete Alumina System
Save on the complete five-cabinet system. Two(2) AlumiFront loudspeakers with built-in subwoofers and three(3) AlumiSat loudspeakers. Receive one(1) FREE pair of UniLock 2000 speaker brackets!


Price: $3,600.00

Note: Specifications are subject to change without notice.




All Contents Copyright © 1989-2018, D+S Tech Labs, Inc.
All Rights Reserved