Introducing our best seller, the
Master Theater 5.1 Home Theater System
"Finally, High-End Home Theater that's Affordable!"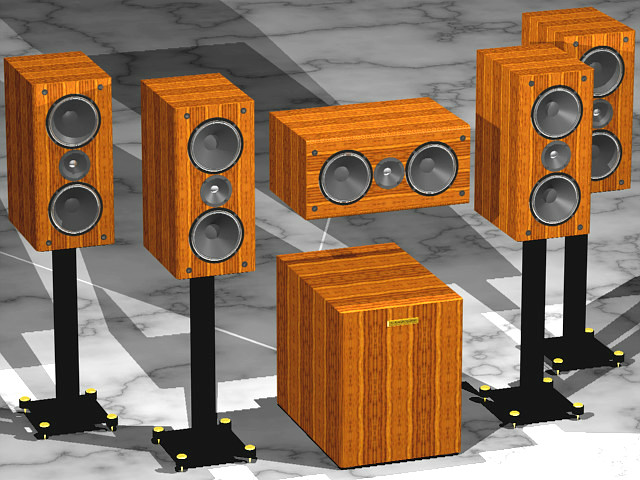 The Master Theater 5.1 six cabinet system is designed for today's digital audio/video receivers.
The VerSat (Versatile Satellite) is used for the front/main, center and surround channels.
The VerSat is no small bookshelf cube. It's an amazing 40 pound powerhouse capable of full-range sound by itself.
However, the Master Theater 5.1 also includes a 250-watt dual ported subwoofer.
After adding the VerSub subwoofer, the speaker system disappears and the room comes alive!

Every speaker system is backed by our Five-Year Warranty.

VerSat (Versatile Satellite)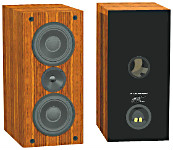 The VerSat is a powerful but compact full-range satellite speaker containing two 7" polypropylene cone, rubber surround woofers and one dual-concentric ring diaphragm tweeter with wave guide plug for controlled directivity. We call it the VerSat because of its versatility. It is magnetically shielded and is perfect for all five channels of a surround sound system. Timber matching and tonal consistency problems are eliminated by using identical speakers for all five channels. Pinpoint imaging from the VerSat creates a sound field so wide and accurate, it is simply astonishing! The VerSat achieves perfection for both music and movies and surpasses systems at twice its price.
Specs:
Tweeters:
One(1) Dual Concentric Ring Diaphragm, Waveguide Plug, Shielded Neodymium Magnet
Woofers:
Two(2) 7" Polypropylene Cone, Rubber Surround, Shielded Magnet
Response:
40 Hz - 40,000 Hz (+/- 3db)
Impedance:
6 ohms nominal
Sensitivity:
92db avg. SPL (2.83V/1M)
Max Power:
150 watts RMS
Dimensions:
10"W x 21"H x 13-1/2"D
Weight:
40 lbs. each
Price: $850.00 each








VerSub (Versatile Subwoofer)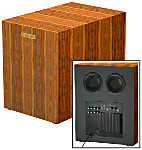 The VerSub is an ominous 12" powered subwoofer. It is a fourth-order bandpass design with dual flared ports firing out the back of the cabinet. The VerSub contains one 12" high-power, shelf mounted woofer and a built in 250-watt RMS amplifier. This subwoofer is also versatile with a full complement of connection options as well as an Auto-On feature that senses the presence of an input signal.
Specs:
Woofer:
12" 500-Watt, Cast Aluminum Frame, Santoprene Rubber Surround
Amplifier:
250 Watts RMS at 0.2% THD
Crossover:
12 db/Oct, variable from 40Hz to 160Hz
Phase:
0 or 180 degrees switchable
Response:
20 Hz - 100 Hz (+/- 2db)
Connections:
Both low and high level inputs and outputs
Dimensions:
16"W x 20"H x 24"D
Weight:
90 lbs. each
Price: $1,250.00 each





VerStand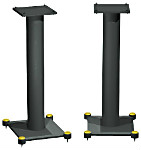 The VerStand is a high-mass all metal speaker stand of superb quality. They are well suited for heavy speakers. They include decorative brass endcaps, a single sand-fillable round pillar and adjustable spikes on both the cast iron base and platform. The VerStand matches perfectly with the VerSat speaker as its height places the VerSat's tweeter at ear level when seated providing direct on-axis radiation. This was not a coincidence :)
Specs:
Base:
11-1/4"W x 13-1/2"D x 1/2" Thick, Quad Minipillars with brass endcaps, solid steel 1.5" spikes
Platform:
8-3/4"W x 9-3/4"D x 3/8" Thick
Pillar:
3-1/2" Diameter, Sand-fillable
Height:
26-3/4" (with spikes)
Weight:
23 lbs. each (empty)
Finish:
Textured Black Satin
Price: $390.00 per pair


The Complete Master Theater 5.1 System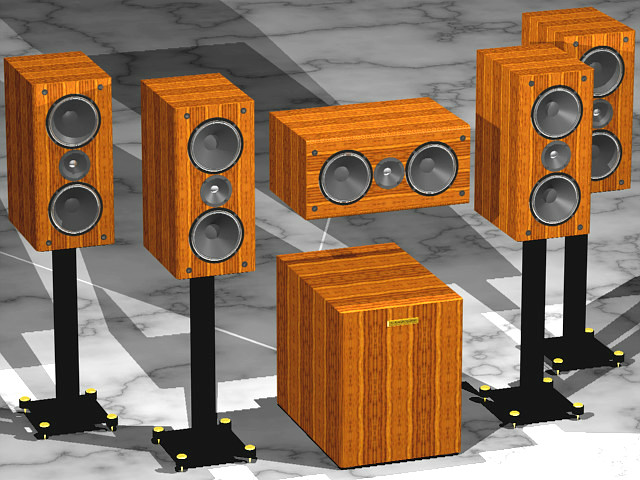 Save on the complete six-cabinet system. Five(5) VerSat loudspeakers and one(1) VerSub powered subwoofer. Receive one(1) FREE pair of VerStand speaker stands!
Price: $5,500.00



Note: Specifications are subject to change without notice.

All Contents Copyright © 1989-2018,
D+S Tech Labs, Inc.
All Rights Reserved