Introducing the NEW Plasmaudio™
Three-Channel Loudspeaker Module
for Plasma or Flat LCD/LED Video Monitors
"Don't settle for tiny TV speakers with your big video monitor!"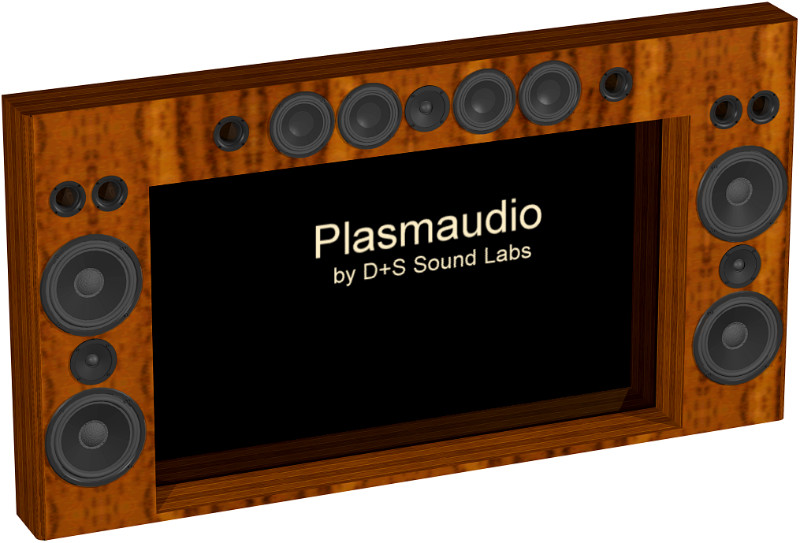 Plasma monitors typically offer tiny speaker columns that attach to the left and right of the unit.
The speaker drivers used in these thin columns are extremely weak and no larger than those found in clock radios.
Sometimes they don't offer speakers at all.

Our new Plasmaudio Speaker Module provides the front three channels of full impact home theater sound while remaining only six inches deep!
Your plasma monitor fits snugly and securely into a custom sized opening such that the video screen is flush with the left, center and right speaker arrays.
And since the Plasmaudio Speaker Module can be finished in any color,
the result is a single, self contained audio/video unit that blends with your decor.

Each Plasmaudio Speaker Module is custom built to fit any size plasma monitor.
You even have your choice of the size of the speaker drivers used for the left and right channels.
Mounting is equally flexible. The fully loaded unit can be mounted on floor pedestals, on the wall, in the wall
or even on motorized cabinet lifts or ceiling lifts (photos of this mounting option are coming soon).

Every speaker system is backed by our Five-Year Warranty.







Patent Pending


Plasmaudio Speaker Module™



      -------------------------------------------------
       Example Specs (Model 5080):
       50" Monitor, L/R-8" Woofers, Center-5" Woofers:
      -------------------------------------------------

         L/R Woofers: Two(2) 8" poly/rubber long throw drivers
      Center Woofers: Four(4) 5" poly/rubber mid-bass drivers
       L/R/C Tweeter: One(1) 1" wide field soft dome driver
         Sensitivity: 91db avg. SPL (1W/1M)
            Response: 45 Hz - 20,000 Hz (+/- 2db)
           Impedance: 4 ohms
               Power: 50 watts - 300 watts RMS
          Dimensions: 69-1/2"W x 36-1/4"H x 6"D
              Weight: 170 lbs. (without Plasma monitor)
Get Your Plasmaudio Module Now!


Find the size of your plasma monitor (42", 50" or 60").
Choose the woofer size for the left and right channels (5", 6-1/2" or 8").
(The woofers for the center channel are 5").
Select the Finish Color of that configuration.
Press "Add to Cart".

Plasmaudio
Configuration
5" L/R Woofers
6-1/2" L/R Woofers
8" L/R Woofers
42"
Plasma Monitor
Model 4250
$3,450.00

Model 4265
$3,650.00

Model 4280
$3,850.00

50"
Plasma Monitor
Model 5050
$4,250.00

Model 5065
$4,450.00

Model 5080
$4,650.00

60"
Plasma Monitor
Model 6050
$4,950.00

Model 6065
$5,150.00

Model 6080
$5,350.00

Matching Floor Pedestals - $495.00 per pair
Note: Specifications are subject to change without notice.
The Plasmaudio Speaker Module does not include a video monitor.




All Contents Copyright © 1989-2018, D+S Tech Labs, Inc.
All Rights Reserved