Quality and reliability are top priorities at D+S.
The Foundation Series Wedge Shape: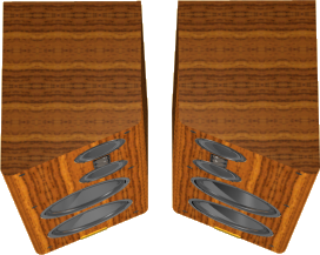 All but our center and rear speakers of our
Foundation Series
have the D+S trademark wedge shape as seen to the right. The baffle (front) panel is angled in toward the listener providing many advantages. The stereo image is widened and improved by direct on-axis radiation. This is why we angle our speakers toward us in the first place. Radiation from the sides of our head toward our ears, rather than toward our face also improves imaging and spaciousness. A set of headphones would be the extreme example of this. Radiating sound away from room boundaries and at an angle to opposing boundaries reduces the blurring effects of excessive reflections and standing waves in the room. And nonparallel panels in the cabinet reduce internal standing waves and colorations of sound from the cabinet. Also, the baffle corners of all our products are smoothly rounded to reduce high frequency diffraction effects. As you can see, our cabinets were designed with the physics of sound in mind, not just flashy appearances.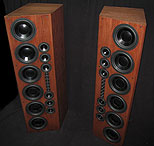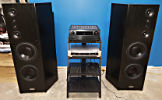 Computer Optimized Design: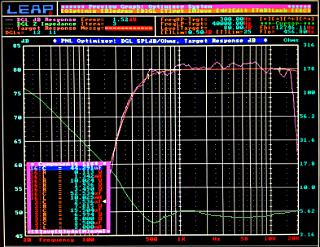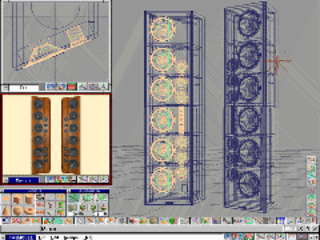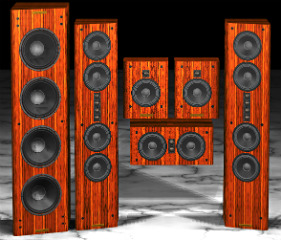 All our products are optimally designed using sophisticated computer software and hardware. A new design begins in our Simulation and Modeling Department,
"The S&M Lab"
. Here, we can virtually see and test a speaker and its theoretical crossover for numerous physical and electrical qualities before a tool is ever raised. Then prototypes are built and tested in our anechoic chamber,
"The Dead Room"
. Refinements are made to both cabinet and crossover until the speaker meets our strict standards. Then the prototype moves on to
"The Den"
for further listening tests.
When a design is complete, products are built and fully assembled
WITHOUT
a crossover network. We believe the crossover is the heart (and brain) of the speaker. So we custom build each crossover to match each speaker using our own proprietary
EDC™
process. We start with computer measurements of both frequency response and impedance sweeps of each of the speaker's driver sections (lowpass, bandpass and highpass). We then import this
real
data into computer optimizing software to design the perfect crossover. This software blends all the driver components together into a seemless musical experience. Complex responses and driver loads are flatted to near perfection.
Mass produced speakers (nearly all other companies) simply cannot afford the time and expense we put into our products - and yet our prices are still very competitive!
Internal Construction: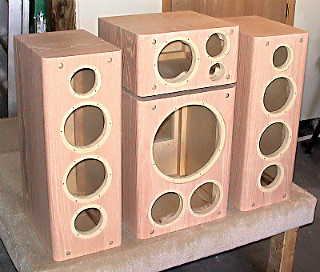 All of our products are built to last a lifetime. D+S cabinets use thick medium density fiberboard (MDF) and all internal seams are reinforced with glue-block bracing. Our larger systems use horizontal shelves spanning the entire cross-section of the enclosure positioned between each woofer. All this bracing ensures rock solid, room shaking bass without unwanted cabinet vibrations coloring the sound. There are no assembly line procedures used at D+S. All our systems are built by hand by audiophiles who love what they do.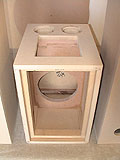 Cabinet Finish: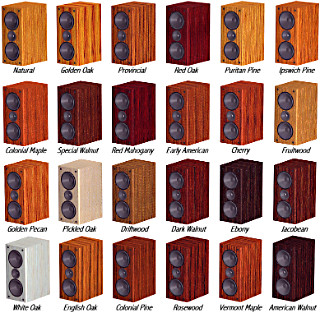 All of our products can be finished from a large selection of 24 different colors. All finishes are hand stained and lacquered real wood veneers. We never use cheap vinyl covering. This is yet another reason why we stand above the rest of the crowd in the loudspeaker business. Our products are made to be high-end pieces of furniture as well as high-end audio.
Click here to see our finish selections.






Our Drivers: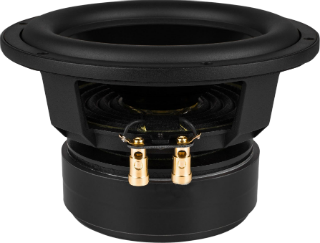 All of our products use only the finest drivers found in the world. The 12" woofers employ an extra heavy magnet and vented motor assembly, an extended pole for maximum magnetic energy, a thick polypropylene cone and a durable butyl rubber surround. Bass from these woofers is smooth, tight and very deep. The 5-1/2" midranges use a superior "composite sandwich" cone for extra stiffness and superb linearity. Add to this an extra heavy magnet and a "distortion killer" short circuiting ring attached to the pole piece. The
punch
of a snare drum and the
brilliance
of brass are like you've never heard before! The 1.1" treated soft dome tweeters use a compact, vented Neodymium magnet system coupled to a large rear air chamber for a low resonant frequency. Do not let their size fool you. They exceeded all our expectations. Using small-frame tweeters allows us to "pack" our drivers tighter together on the baffle. This is great for point-source imaging rather than smearing the signal across a larger surface area. Together, the seamless integration of these units is ultimately musical.







Our Crossovers with

EDC™

: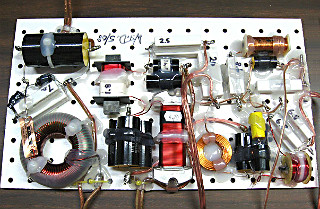 All of our products employ computer optimized crossover filters that are designed with our proprietary
EDC™ Procedure
. These crossovers are custom tuned to each speaker. In addition, the impedance of each driver network (woofers, midranges and tweeters), is flattened and controlled with one or more stabilizing circuits. These circuits provide consistent loads and minimal phase for the crossover and greatly eases the complexity of the load on your amplifier. These extra networks are expensive and are simply NOT found in conventional loudspeakers. Even the inductors in these networks are configured to maximize heat dissipation and eliminate electromagnetic crosstalk. Only the most advanced hexagonally wound inductors, fast metallized polyproylene capacitors and cement wirewound resistors are used in our crossover networks. The result is pure, clean audio.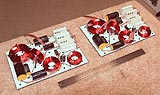 Gold Plated Connections: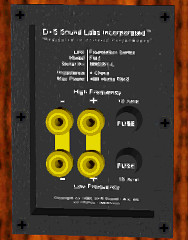 All of our speakers are terminated with gold plated binding posts. Connections can be made using dual or single banana plugs, spade connectors, straight pins or bare wire up the 8 gauge thick. We also supply high quality 12 gauge, oxygen-free copper speaker wire of any length equipped with dual banana plug connectors.


Made in the U.S.A.

Our systems are designed, built and tested by hand in the U.S.A. We take tremendous pride in the quality and durability of our systems.

All Contents Copyright © 1989-2018,
D+S Tech Labs, Inc.
All Rights Reserved